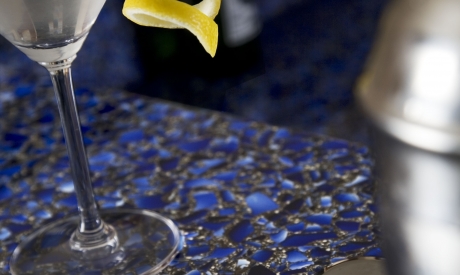 After your big event while you are cleaning up the the empty bottles of beers and hard liquor, ever wonder where exactly is this all going?? Possibly right back where it was, on your counter.
All of the glass used in Vetrazzo is recycled, and it makes up about 83% of the final material by weight. The largest proportion of glass comes from curbside recycling programs. Other glass comes from post industrial usage, windows, dinnerware, stemware, automotive windshields, stained glass, laboratory glass, reclaimed glass from building demolition, and other unusual sources such as decommissioned traffic lights.
You and Vetrazzo when the stories merge
Because of the unique nature of the glass used in the production process, every Vetrazzo surface has its own history. We track that history, and when you purchase Vetrazzo, we provide a Certificate of Transformation that tells you exactly where the glass in your Vetrazzo came from.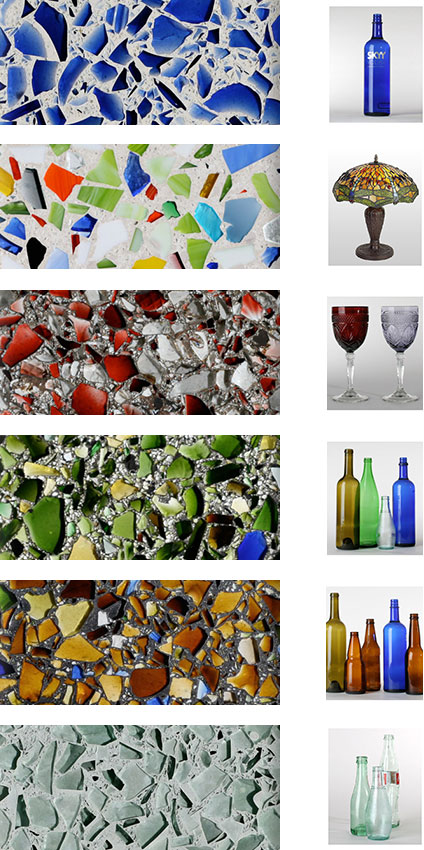 History of Vetrazzo:
In 1996 Vetrazzo® (the product) was invented by a passionate glass scientist in Berkeley, California – it has appeared on HGTV, the DIY Network, and shows like The View.
In 2006, Vetrazzo® opened its manufacturing plant and corporate headquarters in the refurbished Ford Assembly Building at Ford Point in Richmond, California, the same building that opened in 1931 as Ford's west coast Model-A production plant.
In 2010, Vetrazzo was acquired by Polycor Inc, the most diversified and largest fully-integrated granite and marble group in North America, providing natural stone solutions since 1987.