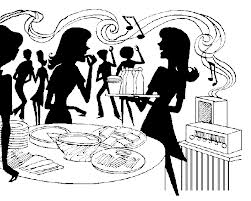 Your place is done and ready to be shown off, what better way than invite your closest friends and family to take a peek at all the hard work you put into your beautiful home.
4 To 6 Weeks Before Your Dinner Party:
Decide the theme and whether you wish to host a casual dinner party or a formal dinner.
Establish your budget.
Create guest list.
Create an online invitation
3 To 4 weeks Prior To Your Dinner Party:
It's time to start thinking about the dinner party food and decorations.
Create a menu.
Book caterers and bartenders if necessary. (When booking a bartender, try one of your local bartending schools, they often will work for just tips in return for the practice and experience.)
Make a grocery list.
Plan a cooking schedule (what can be made ahead of time, what needs to be made they day of).
Decide on the table setting and place orders with a rental company, if needed.
Buy or borrow serving pieces and accessories.
Select music.
Purchase candles or other outdoor lighting if needed. Candle light is an inexpensive way to create an elegant ambiance.
1 To 2 Weeks Prior To Your Dinner Party:
As the countdown is on and you receive RSVP's for your dinner party here's a checklist of things to gather and create.
Purchase nonperishable goods.
Decide on the types of drinks to be served. (If you hired a bartender, finalize your order)
Consult with a florist or check out your local farmers market for great seasonal blooms.
Place special orders with the butcher, fish market or grocery store.
Confirm plans with the caterer, entertainer, and serving help. Arrange for a sitter to watch children and pets during the party.
Buy gas or charcoal for the grill, if needed.
Decide on a party outfit.
Begin a thorough housecleaning – Let your cleaner know there will be an event, and make sure you book them for the day after as well.
2-3 Days Before Your Dinner Party:
Clean serving ware.
Purchase remaining grocery items.
Check recipes for how far in advance food can be prepared.
Start food prep.
Create a party-day game plan.
Determine seating arrangements- if needed.
Print place cards, if using them.
Day Before Your Party:
Buy a great gourmet coffee blend.
Pick up any dry cleaning needed for the party.
Continue housecleaning- make sure the powder room is stocked with plenty of soap and TP.
Continue food preparation for those dishes that can be made in advance.
Set your tablescape.
And finally, things to do the day of your dinner party
Pick up party orders.
Create a bar area.
Take out extra supplies.
Finish cooking.
Organize the kitchen for the final countdown.
Give yourself a breather- have a glass of wine.
Get in party mode- the fruits of your labor are about to pay off!
With the dinner party in full swing, here are a few things to get in mind
Try not to spend too much time in the kitchen- your guests want to see you!
Offer refreshments in between courses.
Items to check and stock up on for your dinner party
Make sure you have space on your coat rack, plenty of hangers or a separate room to put coats and bags in.
Get plenty of ice and make sure you have an ice bucket, and ice tongs or scoop.
Cocktail napkins
Toothpicks
Paper towels
Plates (appetizer, salad, dinner, dessert)
Glasses (water, wine, mixed drink, beer, soda, coffee); some beverages can use the same type of glass
Silverware (enough for all courses and stirrers for coffee)
If grilling, check the tank, charcoal, and lighter fuel. Make sure you have plenty of bug spray and citronella candles too.
Coffee and assortment of tea bags
Cream and sugar
Salt and pepper
Wine and bottle opener
Bar garnishes (lime, lemon, olive)
Garbage bags
Dishwashing soap
Club soda (for spills and spots)
Space to chill beverages. It only takes beer, wine and soda 20 minutes to chill on ice. A large tub or cooler can be set up in a room out of the way.
Post Party
After your smashing dinner party, keep a journal. Include what you served, who was there, and how it went. Make notes on how to improve your next dinner party as well as what made this one successful!