Whether you are in new construction or a remodel, there are so many decisions to be made. When it comes to the bathroom and the endless tile options of materials and styles. EPIC Ceramic & Stone would like to offer some suggestions to think about and give you insight why your designer might be choosing one tile over another.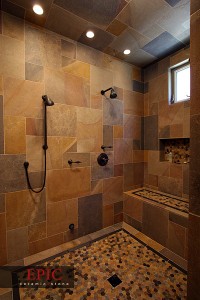 1. Smaller tiles = better traction.
When dealing with bathrooms and the water factor your designer is going to suggest smaller tile for the floor and generally even smaller format for the shower floor. There are some larger tiles that are more slip resistant which you can consider, however the most common solution is a 1×1 mosaic. The reason the mosaic works so well is because the grout that will be set between the tiles helps give the necessary traction.
2. Consider the curves.
Planning on putting a bench in your shower? Take into consideration how well your materials will work on the edges. It is suggested to either go really big like a full slab or go really small with mosaics. Some tile companies make tiles that have a bullnose or radius edge. If you go with a straight edge it may be uncomfortable for the back of your legs when sitting trying to relax. Another thing you want to consider is the comfort of a smooth slab, mosaics tend to be a bit less comfortable if your intentions are to be there for a while.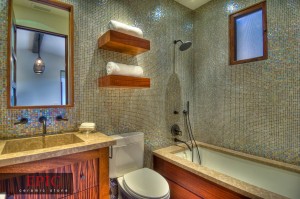 3. Glass, think small and colorful.
Glass can present it's challenges, some clear glass can show moisture trapped behind them just after a couple uses which makes your installer that much more important (their attention to detail). Colorful glass tile can not only bring life to your bathroom, it can also detract from things such as small scratches or water spots.
4. Feature a wall. 
By creating 1 wall to feature, it gives the opportunity to make a good design great, also gives you the opportunity to use that gorgeous, slightly out of budget material you saw at the showroom. This keeps the cost reasonable while still bringing the "wow" factor to the space.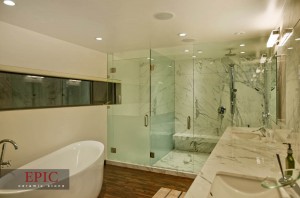 5. Color matters. 
Showrooms have so many options in styles and colors. Remember if the material you fall in love with has a bold modern/eclectic feel to it and the rest of the house is mild and traditional, it will break the flow of the home. By considering the big picture and look at your home as 1 whole project, even if you are only doing a bathroom remodel.